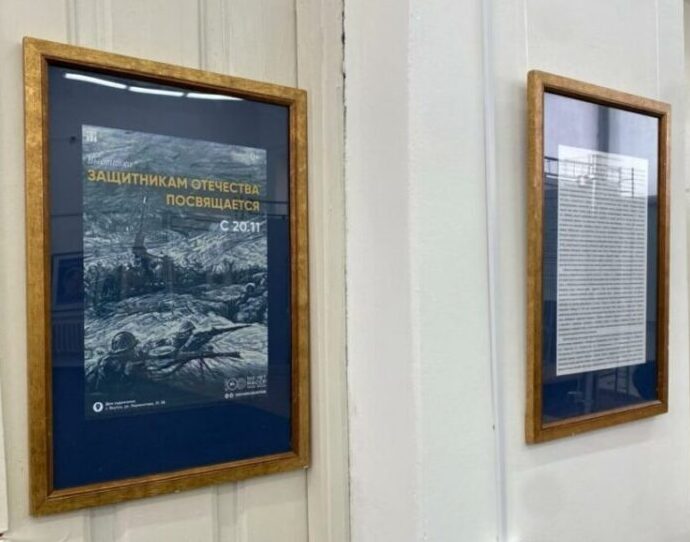 Posted on
The civil-patriotic exhibition "Dedicated to the Defenders of the Fatherland…" starts in Yakutsk
In Yakutsk, from October 20 to November 20, the House of Artists presents a retrospective exhibition of graphic works from the fund of the National Art Museum of the Republic "Dedicated to the Defenders of the Fatherland …", which included the legacy of the first artists of Yakutia and domestic authors, YSIA reports. The exhibition presents the works of the first Yakut artists: Peter Romanov, Lev Gabyshev, Semyon Filippov, Innokenty Izbekov.
As well as graphic reproductions of Russian artists – legendary Kuryniks, Irakli Toidze, Taras Gaponenko, Leonid Soyfertista, Vladimir Gavrilov, Pyotr Krivonogov, Konstantin Finogenov, Lev Stalingradsky, Nikolai Vitinga, Viktor Klimashin and others.
According to the methodologist of the House of Artists Varvara Zarovnyaeva, during the Great Patriotic War, artists painted posters to strengthen people's faith in victory. The posters revealed the true face of fascism, called for the fight against the enemy, asserted the unity of the front and rear in the name of victory. Graphic sheets reflected the strength of front-line soldiers: signalmen, tankmen, nurses and others.
A special place is occupied at the exhibition by works of Yakut artists, with poems by great Yakut writers – Amma Achchygyya and Kunnuk Urastyrap. They served as reinforcement, instilling confidence and faith in victory.
Exhibition venue: House of Artists, Lermontov, 31/2B
Working hours: from 10.00 to 18.00
Admission is free