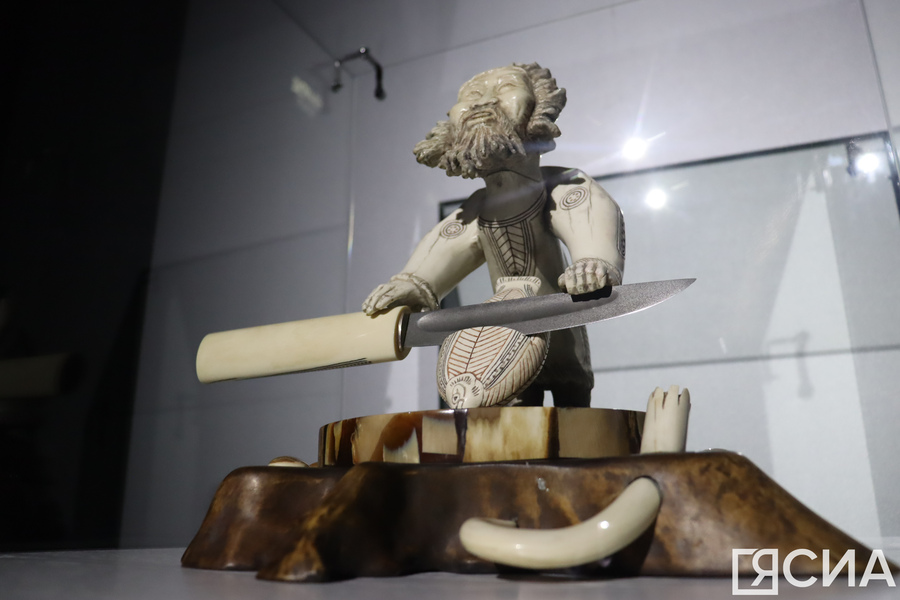 Posted on
Unity of traditions and innovations. Exhibitions of the Olonkho decade opened in Yakutsk
Unique archaeological excavations, expositions of famous masters and the opportunity to try on the images of heroes of the Yakut epic thanks to virtual reality — all this is presented at exhibitions dedicated to the decade of Olonkho in Yakutia. Masters and digital artists skillfully intertwined traditions and innovative technologies, presenting the result in the historical park "Russia is My History". The exhibitions "Olonkho's Century—long Path" and "Fantasy Olonkho – 2022" dedicated to the Year of Cultural Heritage of the Peoples of Russia are presented within the decade.
The first exhibition presents works and expositions of famous masters of the republic, many of them are winners of Russian and international competitions. Mostly exhibits made of metal and mammoth tusk are on display. The highlight was the composite composition of Yakut jewelry of the XVII-XVIII centuries, found in different parts of the republic, including in the Suntarsky, Ust-Aldan, Amginsky districts.
In addition, the costumes of the famous Yakut fashion designer Augustina Filippova are on display in one of the halls.
The logical continuation of the first hall was the exhibition "Fantasy Olonkho 2022". There are competitive works of digital artists from all over the republic, including both experienced professionals and novice authors. 68 artists took part in the competition. The initiator of the project was historian Tuyaara Struchkova, who embodies her knowledge in digital art. Experienced artists Alexandra Neustroeva and Lyudmila Fedorova joined the initiative group.
A new trend, "Digital Fashion", has harmoniously blended into the traditional culture. Second-year students of the Yakut College of Technology and Design have developed 3D fashion design. They created virtual costumes of Olonkho characters — "Udaganka", "Dyrybyna Dyrylyatta", "Yyy kyyha" and "Ayyy o5oto" together with the IT-generator company. With the help of virtual reality glasses, visitors to the exhibition can see the costumes in motion.
As the students said, it took about a month to develop an innovative project. The most difficult thing, the guys admit, was the recreation of traditional Yakut jewelry, since they are not included in the modeling program.
The organizers of the exhibition are the Ministry of Culture and Spiritual Development of Yakutia, the Olonkho Theater, the historical park "Russia is My History", the community of individualist artists.
The exposition is open from Wednesday to Sunday from 10:00 to 18:00. From November 19, the cost of an entrance ticket to the exhibition for adults and according to the Pushkin Card program will be 250 rubles. Children under 13 years old — free of charge.